Quality Derived From Experience
Good help is something that we all appreciate, and there's no better time to lend a hand than when someone is preparing to make an investment as monumental as buying a home. At Quality Home Inspections, we have over 20 years of experience conducting first-rate home inspections that are designed to propel homebuyers toward a suitable investment. We'll carefully assess the property that you're considering, conveying our findings in precise detail—so that you'll have the sufficient knowledge to make a rewarding and well-reasoned decision.
A Hands-On Approach
for First-Time Buyers
Buying a home is an enormous responsibility, and uncertainty often comes with the territory. You have to make sure that your decision fits within the parameters that are sensible for your family's wants, needs, and financial standing. Quality Home Inspections takes the time to accurately evaluate a property and clearly communicate what a particular home will entail—walking you through the specifics so that you can move forward with confidence.
WDI Inspection Included at no Extra Charge
Licensed by New York State as pesticide technicians, we include a comprehensive WDI Inspection with your General Home Inspection.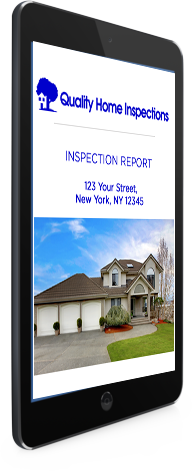 It's All in the Details
We follow up each home inspection with an exhaustive report of our findings that will be sent directly to your email within 24 hours. We take careful measures to ensure that your report is straightforward, accurate, and inclusive of every bit of information that's necessary for you to form a clear picture of your prospective home's condition. Pertinent photographs and video clips are attached throughout whenever additional clarification is needed to help you understand a specific component and any related issues.
Anthony takes his time and is very thorough. Would happily recommend to others.
– L., August 2017
Very professional,thorough, and patient. We looked at several items a few times and Anthony answered every question ensuring we understood any concerns found and potential follow-up steps. Highly recommend him to anyone considering buying a home.
– F., July 2015
Serving the Greater New York Metropolitan Area
We offer professional home inspection services to the greater New York City area as well as Southern Connecticut.
---
When Quality Home Inspections arrives to a property to perform an evaluation, you can trust us to account for even the finest details—ensuring that you have a complete understanding of a home before you negotiate a purchase. Contact us today to request an inspection.

NEW YORK STATE LICENSED, AND INSURED LIC# 16000012319.